December 23rd, 2016 Posted in
Haddam
,
Houses
,
Italianate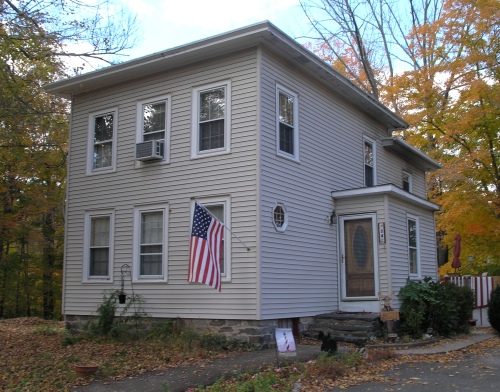 As related in The Genealogy of the Brainerd Family in the United States, with Numerous Sketches of Individuals (1857), by David Dudley Field:
Abraham Brainerd [of Higganum] married Almira M. Clark, of Southwick, Massachusetts, June 5, 1840, and has two children:

Francis Gertrude Brainerd, born Aug. 15, 1841.
William " " July 29, 1849.

They lived on the paternal homestead a few years, and then moved to Madison. They keep a house of entertainment on the shore of the Sound, near the East Wharf, where they furnish sea food for those who call upon them, or board with them. Among the latter are numbers, especially in the warm season of the year, seeking health from sea air and sea food.
The family returned to Higganum (in Haddam) where Abraham Brainerd built the vernacular Italianate house at 34 Maple Avenue on land he had acquired from Orrin Freeman in 1861. As related in The Genealogy of the Brainerd-Brainard Family in America, Vol. II (1908), by Lucy Abigail Brainard:
He was commissioner on ferries from 1869 to '74, inclusive. He was grand juror in 1862; justice of the peace from 1846 to '51, inclusive; selectman in 1847; notary public and postmaster at Higganum for three years, and commissioner of the Superior Court from 1869 to '75, inclusive. He was a representative from Haddam in 1846, and nominated delegate to the Whig State Convention in 1848. He lived in the Brainerd district, Higganum, Conn. Mr. Abraham Brainerd d. Aug. 7, 1884, ae. 68 yrs. Mrs. Almira M. (Clark) Brainerd d. Aug. 5, 1890.