December 9th, 2016 Posted in
East Windsor
,
Houses
,
Italianate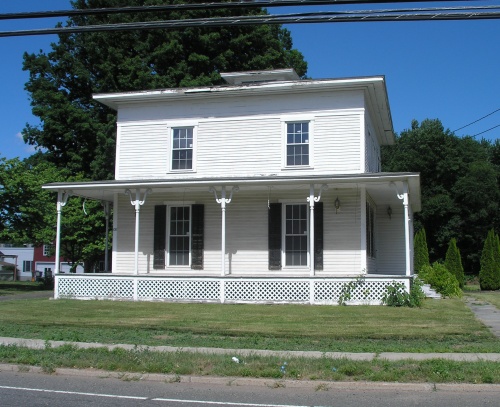 The Italianate house at 108 Main Street in Warehouse Point, East Windsor was built c. 1850. It soon became the home of Dr. Marcus Lyon Fisk, who is described in Vol. II of Henry R. Stiles History and Genealogies of Ancient Windsor (1892):
Marcus was dependent for educational advantages upon the public schools, the village academy, and private tutors, all of which he improved to the utmost degree. Likewise, as a traditional New Englander, he taught school for several terms at different places in Conn., R. I., and Mass. Deciding upon the medical profession, he made for it a very thorough preparation. After enjoying the preceptorship of Dr. Alden Skinner of Vernon, Conn., Dr, Robert Grosvenor of Killingly, Conn., and Dr. Wm. Grosvenor of Providence, R. I., he completed his course of study at the Berkshire Medical College, Pittsfield, Mass., then an institution of much celebrity. He then went to Philadelphia, and became a private pupil of the distinguished Dr. Geo. McClellan, founder of both the Jefferson and the Pennsylvania Medical Colleges. Entering the latter, in which Dr. McC. was then a Professor, he was grad. with the degree of M.D., 4 Mch., 1842.

He soon after established himself in East Windsor, Conn., at Broad Brook, where he remained until the autumn of 1864, when, on the death of Dr. Joseph Olmsted of Warehouse Point (E. W.) and at the solicitation of the people of that part of the town, he rem. thither, spending there the remainder of his life, and dying there 2 April, 1883.

Among physicians Dr. F. was widely known and honored as a Fellow of the Conn. Med. Society, and as one of its oldest members. An experience of over forty years gained him the reputation which carried his practice also into six or seven of the towns adjoining his own. His splendid skill and talents were always at the, service of every one who needed them. He was quick and accurate in diagnosis, sanguine, confident, hope-inspiring to his patients; never at a loss for an expedient; always present-minded and full of resources. To the last, even with Death's hand upon him, he toiled to relieve human suffering.