November 17th, 2016 Posted in
Colonial
,
Coventry
,
Houses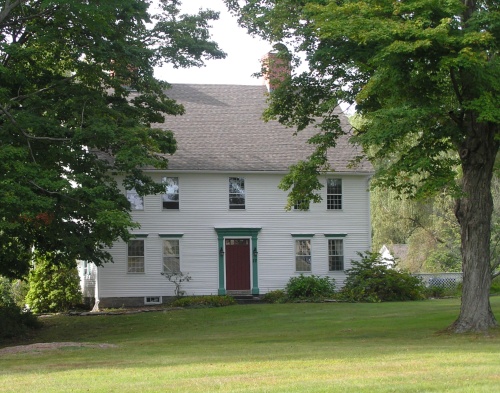 At 77 Ripley Hill Road on Coventry is a house that was once home to Captain Jeremiah Ripley, who ran a store and was Connecticut's Assistant Commissary during the Revolutionary War. The earliest part of the house was built 1762 by Nathaniel Rust Jr., and Capt. Ripley stored gunpowder in the cellar in 1777. As related in the 1912 Historic Sketch of Coventry, complied by Ruth Amelia Higgins:
The assistant commissary for the State was Jeremiah Ripley, who lived on Ripley Hill in Coventry. In May, 1777, Capt. Huntington, of Norwich, was ordered to deliver 100 barrels of Continental powder to Cap. J. Ripley, of Coventry, to be carefully kept until further orders. February 26, 1778, the same Jeremiah Ripley was directed by the General Assembly to send under a guard so soon as might be, two tons of fine powder in his hands to Ezekiel Chevers, commissary of artillery at Springfield.
Across Ripley Hill Road from the house is where 116 men of the Coventry militia assembled to march to Massachusetts in response to the Lexington Alarm of 1775. Ripley later constructed what is now the main block of the house, completed in 1792. In the early twentieth century, the house was owned by George Dudley Seymour, who restored the Nathan Hale Homestead. Seymour remodeled the interior of the Ripley House, repaneling one of the rooms with boards from one of the Nathan Hale schoolhouses.