November 11th, 2016 Posted in
Bethany
,
Houses
,
Italianate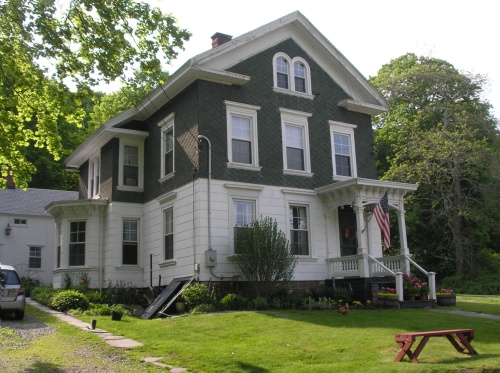 The older rear section of the house at 539 Litchfield Turnpike, intersection with Carrington Road, in Bethany was built by James Seymour Tuttle, a blacksmith and axe-maker. Tuttle's grandson, Samuel Gilbert Davidson, hired joiner Thomas H. Brooks to built the front section, erected in 1882-1883. There are also historic barns attached to the rear of the house and a carriage barn across the road. The farm run by Davidson, also called Minnow Brook Farm, is described by an admirer in Bethany and its Hills (1905):
And now, concluded Mr. Sperry, we come to a model farm, one of the model farms of Connecticut, that of our friend S. G. Davidson, who is one of Bethany's most honored and esteemed men. It is indeed a model of what thrift, good taste, enterprise, foresight and sagacity well employed can accomplish. With Mr. Davidson in charge, even a wilderness could be made to blossom like the rose.
There Davidson's son, Tyler D. Davidson (d. 1952), a farmer like his father and a teacher, also served as First Selectman, Justice of the Peace and was a member of the Connecticut state House of Representatives. In the 1930s the house became the "Old Elm Tea Room," named for a large Elm in front of the house planted by S. G. Davidson. An upstairs room was also used for singing classes held by some of the women of the family.
Tyler Davidson's daughters sold the house out of the family in 1957.