October 3rd, 2016 Posted in
Andover
,
Colonial
,
Houses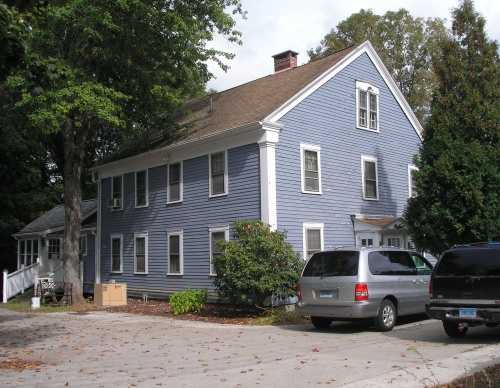 The house at 349 Jonathan Trumbull Highway (Route 6) in Andover was built in 1749 to be the residence (Parsonage) of Rev. Samuel Lockwood (1721-1791), the first minister of Andover's First Congregational Church. The house originally stood just to the east of its current location. It was moved in 1927 to make way for the construction of the Andover Public Library. At that time the house was most likely turned as well, so that its gable-end now faces the road.
Rev. Samuel Lockwood is described in Vol. I of William B. Sprague's Annals of the American Pulpit, reprinted in Descendants of Robert Lockwood: Colonial and Revolutionary History of the Lockwood Family in America, from A.D. 1630 (1889):
Samuel Lockwood was descended from a highly respectable family, and was born at Norwalk, Conn., November 30th, 1721. He was the son of James and Lydia (Smith) Lockwood. He was graduated at Yale College in 1745. He pursued his theological studies under the direction of his brother, the Rev. James Lockwood, who had at that time been settled for several years as pastor of the church in Wethersfield.

An ecclesiastical society in Andover, Conn., having been formed in 1747 from the three towns of Coventry, Lebanon and Hebron, Mr. Lockwood, shortly after he was licensed to preach, was employed by that society as a candidate for settlement. He commenced his labors there about the beginning of 1748, when the parish voted "to hire him to preach as a probationer," they passed this additional, and, as it would seem at this day, superfluous vote, that " Mr. Lockwood may change with any orthodox minister to preach to us when he shall see cause." Having after the manner of those days undergone a long probation among them as a candidate, he was ordained as pastor February 25th, 1749, O. S., the church having been constituted on the preceding day. The ordination sermon was preached by his brother the minister of Wethersfield. He continued in the faithful discharge of the duties of his office upwards of forty years.

[. . .] In 1774 he was appointed to preach the annual sermon before the Legislature of the State, and though there is nothing in it to indicate remarkable powers of mind, it is, nevertheless, a judicious, patriotic and well-adapted discourse. It is the only acknowledged production of his that was ever printed.

In 1791 an enfeebled state of health obliged him to desist from his labors, and by medical advice he visited the mineral springs at New Lebanon in the hope that the waters might prove beneficial to him. But in this both himself and his friends were disappointed; for after he had been there a short time his disease assumed an aggravated form, and very soon the afflicting tidings came back to his people that he was no longer among the living. He died on Saturday the 18th of June, in the 70th year of his age, and the 43d of his ministry.