September 30th, 2016 Posted in
Chaplin
,
Libraries
,
Romanesque Revival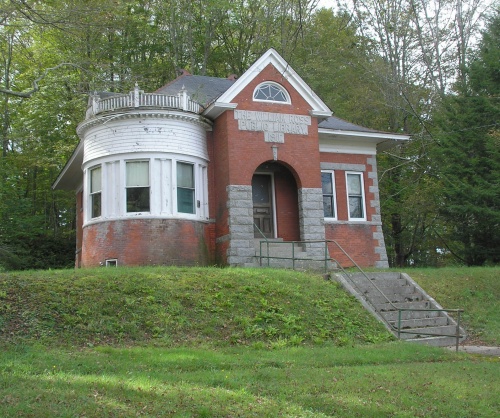 The William Ross Public Library, built in 1911 at 57 Chaplin Street, is the original library building in the town of Chaplin. The library has since moved to the building at 130 Chaplin Street, a former elementary school built in 1948 and renovated for the library in 2000. The history of the library is described by librarian Ruth Eveline Snow in "The William Ross Public Library, Chaplin" in A Modern History of Windham County, Vol. I (1920):
About two years before the regular organization, a circulating library was kept first in the old Davenport House by Nettie E. Snow. At a town meeting October 7, 1901, the town gave a vote of thanks to Mr. Seth Moseley of New Haven for his gift of $100 toward the establishment of a free library. At the same meeting it was voted that the town should give $200, and "should spend annually for maintenance and increase $25."

[. . .] The library has at present $50 a year from the town, $25 for heating, lighting, magazines, etc., and $25 for the librarian's salary; $50 a year, interest on the William Ross Trust Fund. The library is under the state law and the state gives $100 worth of books each year.

The library was kept in different places. It had no regular library building. At the death of Mr. William Ross, a public-spirited citizen, it was found that his will provided money for a suitable library building. His widow added more money to the fund, so that a $6,500 brick building was erected. The dedication of the building was Saturday, November 18, 1911.

[. . .] The new building was built by George Eastman Snow. A guest book is kept on one of the tables and now shows the names of many visitors from many different states.

The library now numbers about two thousand volumes. Collections of books are sent each term, to each of the three schools in the town. The children use the library to a great extent, and it is very popular with the adults also.