September 26th, 2016 Posted in
Ashford
,
Colonial
,
Houses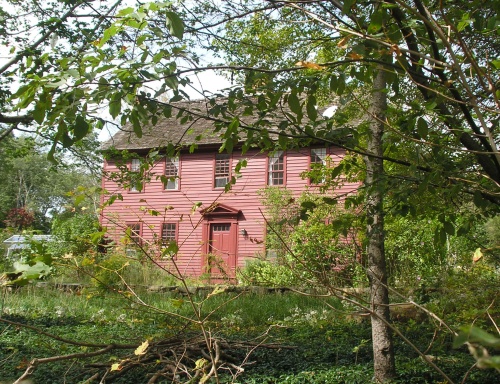 The Byles Homestead is an early eighteenth-century house at 125 Ashford Center Road in Ashford. It stands on part of what had been the 226 acre farm bought by Josias (or Josiah) Byles in 1726 (or 1718). Josias Byles (c.1682-1752) was a Boston shopkeeper who is buried in that city's Granary Burying Ground. His half-brother, Rev. Mather Byles (1706-1788) was a famously witty clergyman, author and poet who was a loyalist during the Revolutionary War. Josias' son, Ebenezer Byles (1723-1805), settled on his father's property in Ashford in 1743. The Byles Homestead passed to Ebenezer's son Josias, then to his grandson Elisha and then to his great-grandson Andrew H. Byles. As related in Genealogical and Biographical Record of New London County, Connecticut (1905):
Deacon Andrew Huntington Byles was born Oct. 3, 1820, on the old home farm in Ashford, which is located on the turnpike between Ashford Centre and Warrenville. He was brought up to a very practical knowledge of farm work, which, however, in his younger days did not appeal to him, as he had a great desire to enter the medical profession. This boon was denied him as his assistance was needed by his father at home. His education was acquired in the common schools, and for several years he taught school in Ashford and surrounding towns. The old farm continued to be his home, and he assisted very materially in its management until after the death of his father, when it became his by inheritance. He resided there until 1888, when he removed to Willimantic and made that city his home until his death May 17, 1894.
Today, 69 acres of the Byles family's old property is the Josias Byles Sanctuary, given to Joshua's Trust in 1988. The Byles House is now a bed and breakfast called Henrietta House. The sign for Henrietta House gives a date of circa 1722, around which time the oldest sections of the residence were built.