June 15th, 2016 Posted in
Federal Style
,
Hotels
,
Houses
,
Southbury
,
Taverns & Inns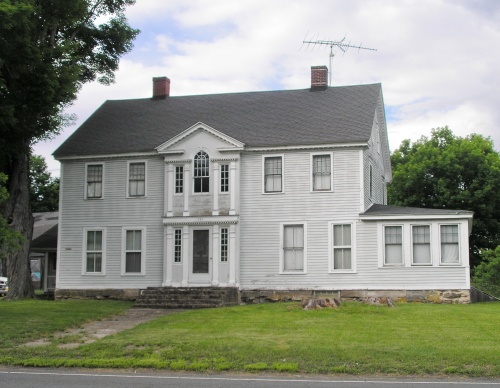 Located at 1531 Southford Road in the village of Southford in Southbury, the Hurd-Osborn-Oatman House was built in 1806 by George Thompson as a hotel. As explained by John L. Rockey in the second volume of his History of New Haven County, Connecticut (1892):
In the period of time when the turnpike was the great thoroughfare between New Haven and Litchfield, Southford being 20 miles from the former place and 25 miles from the latter, hotels were here kept and were well patronized. [. . . ] The hotel known as the Oatman House for 35 years, was built by George Thompson in 1806, and first kept by him and then by his brother-in-law, Benjamin S. Hurd, followed by John Peck. Enos Foot was the landlord in 1845.
George Thompson and Benjamin Smith Hurd married two sisters, Clarissa and Esther, daughters of Adin Wheeler, who helped to fund construction of the hotel. The hotel had many owners over the years. Benjamin Blagg Osborn, son of merchant and Revolutionary War patriot Shadrach Osborn, was tavern-keeper in the 1820s. Charles R. Oatman (1827-1904), under whose name the hotel was long known, acquired the property in 1870. Oatman married Orinda T. Hurd, daughter of Benjamin R. Hurd, in 1850. The Oatman family owned the hotel until 1899 and even under later owners it was still known for many years as the C. R. Oatman Hotel. It later became the Fennbrock Dairy.