January 25th, 2010 Posted in
Churches
,
Durham
,
Greek Revival
,
Organizations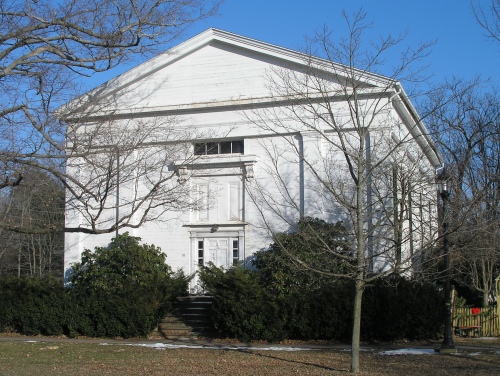 The Methodist Episcopal Church in Durham was organized in 1815, with the South District School House being used for worship. Membership soon dwindled after conflicts within the church, but in 1830, according to William Chauncey Fowler's History of Durham (1866):
Dr. Chauncey Andrews being in the practice of medicine in the town, secured a place for holding Methodist meetings, and at his own expense fitted up a room in the Academy on the Green and hired a Local Preacher from Middletown by the name of Isham, to preach six Sabbaths, incurring the responsibility of paying him without any orders from the Society or Class. From that time forward Methodist meetings were held regularly on the Sabbath, and the students and Professors from the Wesleyan University at Middletown, supplied the pulpit.
Membership now increased quickly until a Methodist church building was constructed on Main Street in 1836. Durham Methodists joined with Congregationalists in 1941 to form the United Churches of Durham, using the North Congregational Church building for their united worship. The old Greek Revival-style Methodist church then became a Grange Hall and is now used as office space (see also: pdf).