April 16th, 2016 Posted in
Hartford
,
Organizations
,
Romanesque Revival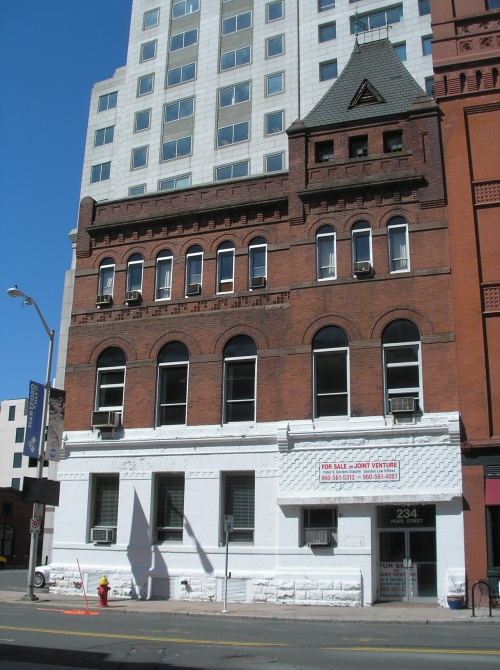 The City Mission Building (also known as the City Missionary Society Building) is located at 234 Pearl Street in Hartford. The Hartford City Mission (also called the City Missionary Society) was founded in 1851 by the city's six Congregational Churches to provide for the welfare of Hartford's poor through Sunday schools, cooking and sewing classes and charity work. Designed by architect William D. Johnson, the building on Pearl Street was constructed in 1890-1891. It is a three-story structure with a tower on the side adjacent to the Goodwin Building. An illustration of a different design for the building appeared in August of 1890 in the Hartford Times and the Hartford Weekly Times. A clipping of this article was placed in the scrapbook kept by the architectural firm of Cook, Hapgood & Co. I am not sure why this design was not used.
An article in the Hartford Courant on August 14, 1890 ("Some New Buildings; Pearl Street Will Become a Busy Thoroughfare") described "the new and handsome building of the City Mission, which when completed will be not only one of the prettiest but one of the most substantial buildings on the street." The article mentions that "The second floor will contain a hall capable of seating two hundred and fifty people and a large room for the meetings of the City Mission board, and the ladies of the City Mission Association." City Mission Hall was a meeting place for various events, including the golden wedding celebration of lawyer John Hooker and his wife, Isabella Beecher Hooker, a women's suffragist and sister of Harriet Beecher Stowe.
The City Missionary Society sold the building in 1910, relocating to another building they had erected six years earlier on Village Street. The old organization no longer exists, but a new Hartford City Mission began serving youth in Hartford's North End in 1998. The building on Pearl Street was later used by the Italian-American Home and then served as the offices of a family of attorneys. The building has recently been on the market.