April 15th, 2016 Posted in
Neoclassical
,
New Haven
,
Stations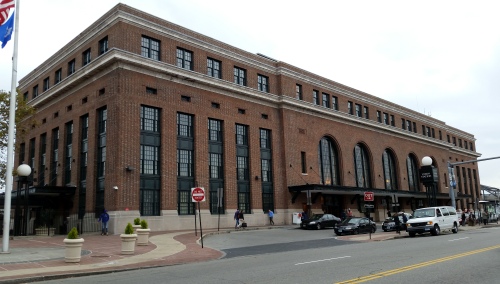 Union Station in New Haven, the city's main railroad passenger station, was built in 1917-1920 for the New York, New Haven and Hartford Railroad. The station was designed by the noted architect Cass Gilbert.
It is the third major passenger station to serve New Haven. The first Union Station, opened by the New York and New Haven Railroad in 1848, stood on Chapel Street east of downtown. It was designed by Henry Austin. The NY&NH merged with the Hartford & New Haven Railroad in 1872. The consolidated company decided to construct a new station a few blocks south of the old Chapel Street station. Built in 1874 in the Second French Empire style, it stood at the site of the current Union Station parking garage and was later destroyed in a fire.
After World War II the New York, New Haven and Hartford Railroad fell into decline. Union Station was shuttered in 1972, leaving only the section under the tracks open to passengers. The station came close to demolition before Northeast Corridor Improvement Project led to renovations in the 1980s. Union Station reopened in 1985.