April 13th, 2016 Posted in
Apartment Buildings
,
New Britain
,
Queen Anne
,
Tudor Revival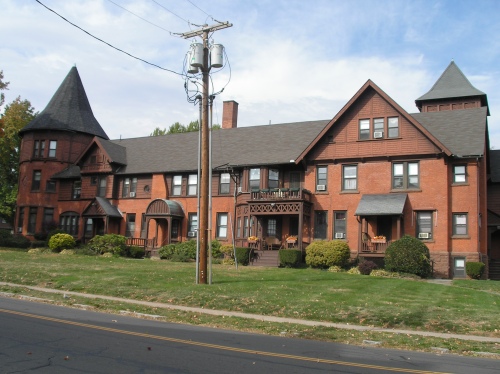 Cornielius B. Erwin (1811-1885) was a leading industrialist and philanthropist in New Britain. At his death he became the benefactor of the Erwin Home for Worthy and Indigent Women, leaving funds for the project to the Pastor and Standing Committee of South Congregational Church. Opened in 1892, the Erwin Home continues to operate today as a non-denominational residence for "worthy women of limited means." With an address at 140 Bassett Street in New Britain, it is a large structure with several additions. Architecturally the Erwin Home is an example of the English interpretation of the Queen Anne style. The earliest section of the building, designed by Melvin H. Hapgood of Cook, Hapgood & Co and erected in 1891, consists of two wings that extend along Bassett and Ellis Streets and join at a three-story corner tower. At the rear of the Ellis Street side, facing the building's inner courtyard, is a small gable-roofed tower. The first addition to the Erwin Home, made in 1894 and designed by Hapgood & Hapgood, extends along Warlock Street. This connects to another addition built in 1914. These later sections feature elements of the Tudor Revival style. Further addition were made in 1971 and 1973.
An early description of the building appeared in The American Architect and Building News, Vol. XXXIII, No. 814 (August 1, 1891):
The late Cornelius B. Erwin, of the Russell & Erwin Mfg. Co., left a large sum in the hands of the committee of the Congregational Church, of which he was a member, for the purpose of having a building put up which should be an actual home for such beneficiaries as the committee should approve, saying in his will: — "it being my object in establishing said Home to aid the really worthy and deserving poor, and not to encourage those who neither are, nor desire to be self-supporting." The architects have endeavored to carry out as closely as possible the desires of Mr. Erwin, and, instead of planning a large high structure having the appearance of an asylum, a low, rambling cluster of cottages has been arranged for, all under one roof, yet each little portion retaining its individuality.

The Domestic English style of architecture was selected as being the one best adapted for giving the desired picturesqueness and homelikeness so attractive to destitute and homeless women. [. . . .] It will be seen that the key-note of the whole design is the furnishiug of independent homes for worthy and indigent women. It is well-known that many poor but respectable people have a strong prejudice, even horror of anything which is suggestive of surveillance or a binding down to rules in an institution.