February 16th, 2016 Posted in
American Foursquare
,
Houses
,
Ledyard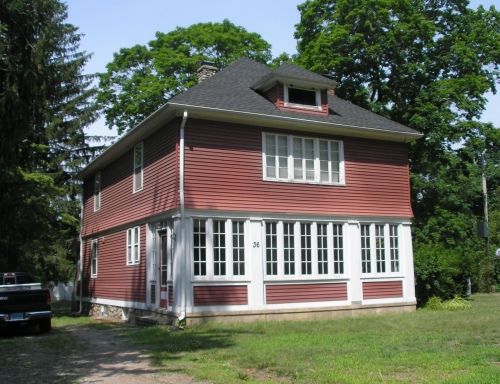 The house at 36 Hurlbutt Road in Gales Ferry, Ledyard, was built in 1912 for John J. Lawless, a lawyer and military veteran. Active in New London, Lawless apparently had homes in both Ledyard and the Quaker Hill section of Waterford, his home town. As related in the Gales Ferry news section of the Norwich Bulletin of Saturday, July 10, 1915:
Mr. and Mrs. John J. Lawless entertained Monday Mrs. Carlos Chapman of Groton, Mrs. D. J. Cavanaugh, the Misses Beaudry and Earle Wooten of New London. In the evening Ernestine Talbot, Mrs. Lawless' young daughter, entertained her young schoolmates and some friends with fireworks and light refreshments on the lawn.
They were celebrating Independence Day on July 5 (no doubt because July 4 that year was a Sunday). A description of the career of John J. Lawless can be found in A Modern History of New London County, Vol. II (1922), edited by Benjamin Tinkham Marshall:
John J. Lawless was born at Vinal Haven, Maine, May 17, 1876. He received the preliminary portion of his education in the public schools of New London, having been brought to this city when very young by his parents. After graduating from the New London High School, during which time his attention had been turned forcibly to the legal profession, he decided to make it his career in life and, accordingly, prepared for college at Mystic Valley Institute, graduating from this institution in 1901 and subsequently matriculating at the Albany Law School, from which he won the degree of Bachelor of Laws in the class of 1903. Returning to New London, he entered the law office of Abel P. Tanner, where he remained until 1904, when, after passing his bar examinations, he established himself in the practice of his chosen profession which has proven extraordinarily successful, having grown extensively up to the present time.

Major Lawless has always been interested in military life, and during the Spanish-American War enlisted as a private in Company A, Connecticut Volunteer Infantry, being later commissioned a second lieutenant. After the war he was commissioned captain of the Third Regiment, and held this post for many years. The World War offered him another opportunity and this he was quick and eager to grasp. Successfully passing the examinations for major at Fort H. G. Wright, New York, he was sent to Plattsburg, where he was assigned to the 9th Company of the New England Training Division, and was mustered out of service July 15, 1919. Major Lawless is now a member of the American Legion, and is also past commander of the George M. Cole Camp, United Spanish War Veterans.

[. . .]

Respected as he is both in New London and his home town, Waterford, his advance can have known no deviation from the strictest probity and the most up-right methods. Such a record is certainly worthy of emulation.

Major Lawless married, July 5, 1910, Alice Wilbur Talbot, daughter of George L. and Emma Wilbur Talbot, of Putnam, Connecticut.