December 4th, 2015 Posted in
American Foursquare
,
Craftsman
,
Hartford
,
Houses
,
Shingle Style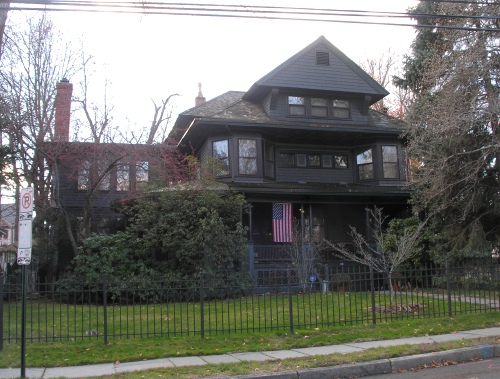 One of the most prolific builders in the West End of Hartford at the turn of the century was William H. Scoville (1869-1932) (his brother A. W. Scoville was also a builder). W. H. Scoville had a distinctive way of taking the basic American Foursquare form and applying elements of the Queen Anne/Shingle/Craftsman/Colonial Revival styles in an individualistic way. His many houses show great deal variety in the way he combined and exaggerated different architectural features in each one. The house at 55 Lorraine Street, built in 1900, is a particularly intriguing example of his work that seems to be almost Asian-inspired.
As described in the 1917 edition of the Encyclopedia of Connecticut Biography:
William Harris Scoville, architect and builder, was born in Elmwood, a suburb of Hartford, Connecticut, June 10, 1862. Shortly afterwards his parents moved to Hartford, where he received his education in the Wadsworth street school. He learned the carpenter's trade with his father and became a skilled worker. At the age of nineteen, being ambitious, he began contracting and progressed rapidly as an architect and builder, employing the services of draftsmen. Now for over a quarter of a century Mr. Scoville has made a special study of the development of real estate and general building, one of his special ideas being to sell houses on the rent payment basis. He has for many years been active in public affairs, both political and educational.