October 4th, 2015 Posted in
Churches
,
Gothic
,
Mansfield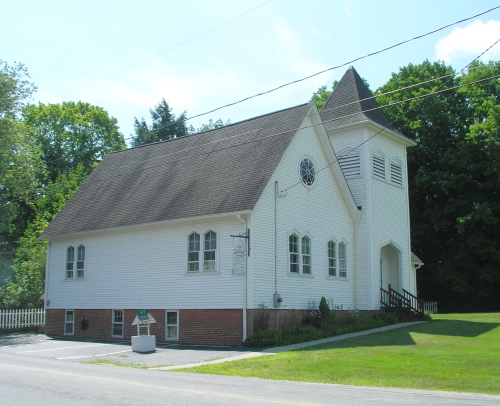 The first house of worship to be constructed in the Mansfield Depot section of Mansfield was a small meeting room built in the late nineteenth century by the Union Chapel Society. In 1907 the Second Baptist Church of Mansfield was established. As described in the Hartford Courant on December 18, 1908:
At last the hopes of the small settlement of Baptists at Mansfield Depot are to be realized. Rev. Leonard Smith of Mansfield, pastor of the Spring Hill Baptist Church acting as trustee of the Eber Dunham fund, has bought the chapel and land at Mansfield Depot of the Union Chapel Society. The chapel will be remodeled and converted into a meeting house to be known as the Eber Dunham Memorial Church. The purchase has been made possible by a fund left by the late Eber Dunham, who was a religious man living at Mansfield Depot several miles from any church from the pulpit of which were expounded the doctrines that conformed with his religious belief. All during his life he had to drive to church and was regular in attendance, both winter and summer. When he died he made provision whereby a certain number of citizens of his religious belief could band themselves together and form a church and society and this fund could be secured for a meeting house. If not after a certain period the money would be turned over to the state Baptist society. Several times during the past few years has it looked as though the state society would get the fund, but a short time ago the number of Baptists at Mansfield Depot became sufficient to organize a society of their own and now will be effected the complete realization of their cherished hopes in having a place of worship of their own.
At the end of 1908 (as reported by the Courant on January 1, 1909), Rev. Smith called for bids to build an addition to the Union Chapel. The addition would become the main part of the new Eber Dunham Memorial Church, with the older section being used as a conference room. The church would also have a belfrey. Work on the church was scheduled to begin that spring.
In 1973 the church, located at 105 Depot Road, became the Mansfield Christian Fellowship.