September 22nd, 2015 Posted in
Banks
,
Middletown
,
Neoclassical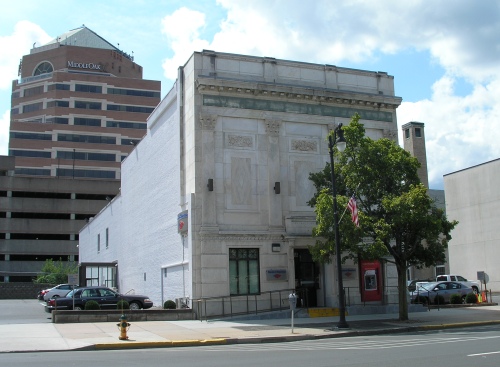 The Middletown Bank opened in 1801 in the home of Nehemiah Hubbard. As described in the History of Middlesex County, Connecticut (1884):
The Middletown National Bank, formerly the Middletown Bank, was chartered October 29th 1795. The organization was not completed, however, until May 1st 1801. The stockholders met at that time at Mrs. Sarah Goodwin's Tavern and elected the following directors: Elijah Hubbard, Chauncey Whittlesey, Nehemiah Hubbard jr., Samuel Watkinson, Benjamin Williams, Ebenezer Sage, George Hallam, Joseph Hart, and Elias Shipman.

The first meeting of the directors was held May 13th 1801. Elijah Hubbard was chosen president, and Timothy Southmayd, cashier.
The bank constructed a building on Main Street in 1813, replacing it with a brownstone structure in 1855-1856, which was enlarged in 1893. This building was then replaced in 1917 by the bank's third building on the site (267 Main Street). The Middletown National Bank was bought by the Connecticut Bank and Trust Co. in 1957. The building is now a branch of Bank of America.