November 3rd, 2009 Posted in
Colonial
,
Marlborough
,
Taverns & Inns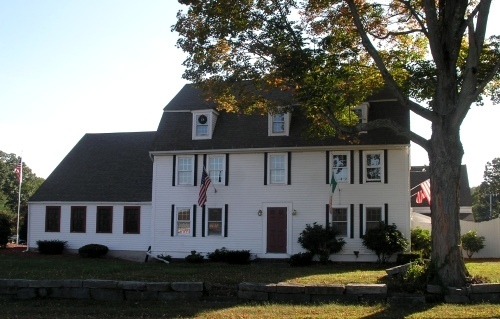 Built in 1740 at the intersection of two main roads in what would later become the town of Marlborough, the Marlborough Tavern has served, over the years, as a tavern, hotel and, in the 1790s, a post office. It is currently a restaurant. According to the Report of the Celebration of the Centennial of the Incorporation of the Town of Marlborough, August 23d and 25th 1903 (1904), by Mary Hall:
Marlborough was lifted from its isolated condition by the building of the Hartford and New London turnpike in 1800, the incorporation of the Hebron and Middle Haddam turnpike company in 1802, and of the Chatham and Marlborough company in 1809. The completion of these roads was of great advantage to the town. The barns of the Marlborough inn or tavern, then kept by Elisha Buell. furnished a place for change of horses and refreshment for travelers. Guests of national reputation were frequently entertained here. Among those known to have been entertained were Presidents James Monroe and Andrew Jackson.
The Marlborough Tavern was built by the Buell family and in the late eighteenth to early nineteenth centuries was operated by Col. Elisha Buell, who also established a "gun manufactory and repair shop" and was "a fine workman in iron and steel," creating the Buell Musket. His son, General Enos Buell, was a captain in the War of 1812 and succeeded his father as postmaster. Sheriffs transporting prisoners to Old Newgate Prison would stop at the Tavern, where their was a holding cell on the third floor. The Tavern also became the summer home of Mary Hall, compiler of the book quoted from above. Hall became Connecticut's first female lawyer after the the Connecticut Supreme Court upheld her right to be an attorney in 1882. Hall practiced law for more than four decades and also founded the Good Will Club of Hartford, a charity for boys.