July 16th, 2015 Posted in
Folk Victorian
,
Gothic
,
Houses
,
North Haven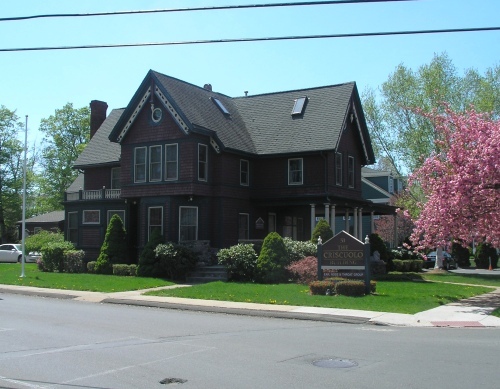 The house at 31 Broadway in North Haven was built in 1870 by builder Solomon Linsley for Frank L. Stiles (1854-1922), a prominent brick manufacturer. Stiles is described in the Legislative History and Souvenir of Connecticut (Vol. VII, 1909-1910):
Hon. Frank L. Stiles, of North Haven, Republican Senator from the Twelfth District, is the son of Isaac L. and Sophronia M. (Blakeslee) Stiles, and was born at North Haven July 12, 1854. He is a direct descendant of the Rev. Ezra Stiles, who was president of Yale College. He received his education at the famous Cheshire Academy and when eighteen years of age began to learn the brickmakers' business in his father's plant. Senator Stiles is now president and treasurer of the Stiles & Hart Brick Company, Taunton, Mass., president and treasurer of The Stiles & Reynolds Brick Company, Berlin, Conn., and also of the I. L. Stiles & Son Brick Company. North Haven, Conn., one of the largest establishments of its kind in the country. He is also deeply interested in agricultural pursuits, having half a dozen farms at North Haven and Taunton. On December 22, 1886. Senator Stiles married Mary Amelia Dickerman. a descendant of some of the old families of New England. He is a warden of St. John's Episcopal Church, a thirty-second degree Mason, a member of the Union League of New Haven and of organizations in Meriden, Providence and other cities. He represented his town in the General Assembly of 1903. As chairman, this session, of the Committee on Agriculture, he promoted the enactment of legislation salutary to the entire state. Senator Stiles was also chairman of the Committee on Forfeited Rights and a member of the Committee on Incorporations. He is treasurer of the Connecticut Legislative Club of 1909. Senator Stiles has a wide circle of strong friends who greatly admire him for his sterling qualities and upright character.
The house is now called the Criscuolo Building and houses medical offices.