June 15th, 2015 Posted in
Colonial
,
Houses
,
Mansfield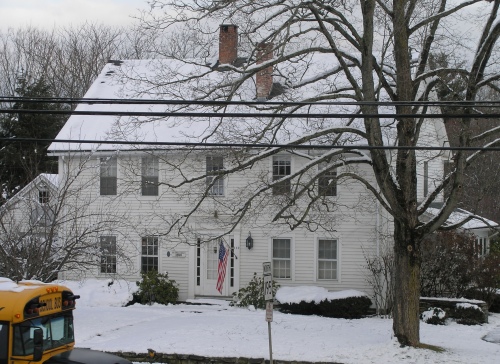 The house at 552 Storrs Road in Mansfield Center was built around 1765 by Shubael Conant, Jr. (1739-1794). His father, Judge Shubael Conant (1711-1775) was a leading citizen of Mansfield and served as Speaker of the Connecticut General Assembly. As described in the second volume of Biographical Sketches of the Graduates of Yale College (1896), by Franklin Bowditch Dexter, Shubael Conant, Jr.:
was born in Mansfield, Connecticut, on the 10th of August, 1739, being the eldest son of Judge Shubael Conant (Y. C. 1732) by his second marriage with Ruth Conant. Two brothers were graduated here in 1765 and 1776.

He was a farmer in his native town, serving also in various town offices, and especially as Clerk of the Probate Court, of which his father was for some years Judge.

He died in Mansfield in June, 1794, in his 55th year. His estate was bequeathed to his widow, and to his brother and nephews and nieces.

He married Anna, third daughter of Peter and Rebecca (Storrs) Aspenwall, of Woodstock and Windham, Connecticut, who was born on October 26, 1748, and died in the early part of the year 1807.
In 1813, the house was acquired by Isaac Arnold, a carpenter.