May 14th, 2015 Posted in
Colonial
,
North Haven
,
Taverns & Inns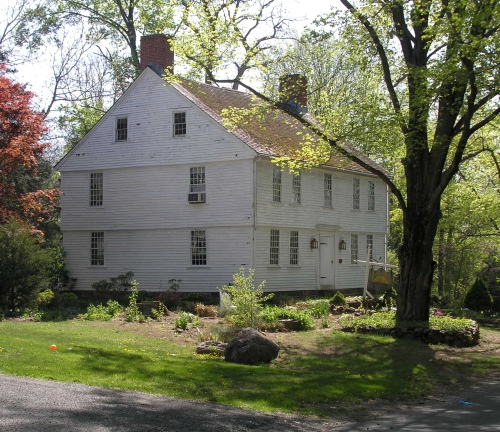 The house at 1 Old Tavern Lane in North Haven was built in 1738 as a tavern by William Walter. It was first known as the Half-Mile House (it is located on a half-mile strip of land that was once part of East Haven but later given to North Haven). After the Revolution it was renamed the Rising Sun Tavern. After Walter, the Tavern was run by Gideon Todd (1737-1817) for many years. Todd also maintained the road and charged travelers at a tollgate. Gideon Todd served as a sergeant during the Revolutionary War and was made a state militia captain in 1787. According to tradition guns were hidden from the British during the War in a secret room above the tavern's kitchen. The interesting story of Todd's marriage is described in the The Todd Family in America (1920):
Prudence Tuttle was from Wallingford, Conn., her father being an officer there under the King. Gideon Todd was born in North Haven, Conn. Their marriage created a sensation in Colonial society. The Tuttle's were a wealthy and aristocratic family and when young "Gid" Todd asked their daughters hand in marriage, he was haughtily refused. He was their equal by birth and lineage, but had his fortune yet to make, and they had other views for their daughter. One winter day, there was consternation and dismay in the Tuttle mansion; Prudence was missing and investigation revealed the fact that she had eloped, mounted on a pillon, behind her lover, they had ridden to North Haven and were married. Her parents disowned her and her name was never to be mentioned. As time passed, reports reached them that Gideon Todd was getting on in a remarkable way; accumulating property and esteemed by every one, and they thought it time to forgive the disobedient daughter; so, they loaded a cart with bedding, furniture, and other valuables, and started the hired man with it for her home, they going on horseback. Arriving there first, they found their son-in-law at home, and were courteously received. After a time, the cart drove up to the door and they then announced that they had brought some presents, when Capt. Todd said with dignity, "Time was when the furniture and bedding would have been acceptable, for when we were first married, we slept on the floor on a straw bed; but now I can supply my wife with every comfort, and your presents cannot come into the house; but you will always be welcomed." And tradition has it, they returned home, as chagrined and mortified, as their neighbors were amused.
Now a private residence, the tavern was sold out of the Todd family in the early twentieth century.