October 24th, 2014 Posted in
Colonial
,
Houses
,
Madison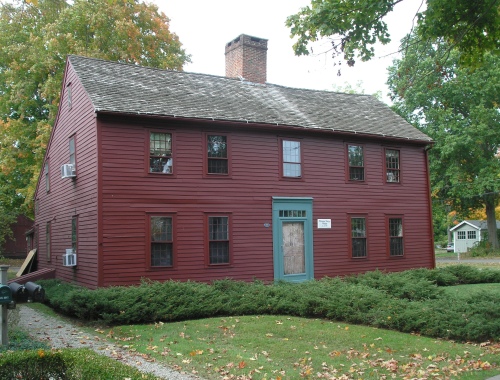 One of Connecticut's oldest surviving houses is the Meigs-Bishop House, at 45 Wall Street in Madison. It is Madison's second oldest house after the 1685 Deacon John Grave House. The Meigs-Bishop House was built in 1690 by Janna Meigs on land he had received from his father, Deacon John Meigs. As related in the Record of the Descendants of Vincent Meigs: Who Came from Dorsetchire, England, to America about 1635 (1901), by Henry B. Meigs:
Capt. Janna was evidently a man of education, as the importance of the many offices he filled would indicate; was deacon in the church; represented his district in the legislature of the Colony of Connecticut in 1716-'17-'18 and 1726; and was Justice of the Peace for New Haven Colony, annually from 1722 to 1733 inclusive, a position of greater importance then than now. In military life he was Captain of a Company in the Queen Ann wars.
He left the house to his son, Lt. Janna Meigs, who deeded it to his first cousin, Capt. Phineas Meigs. After serving in the Revolutionary War from 1777 to 1780, Capt. Meigs retired from the army and was named captain of the Guilford militia. On May 19, 1782, three British frigates tried to capture an American schooner that had run aground on a sand bar. Capt. Meigs set out from his Wall street home leading his men to battle British soldiers who had landed on shore. In the ensuing fight, Capt. Meigs was shot through the head. He is believed to be the last New Englander to be killed in an action against the British in the Revolutionary War. The green wool round hat he was wearing that night survives and is in the collection of the Connecticut Historical Society. It bears the entry and exit holes of the musket ball that killed Capt. Meigs.
Later owned by the Bishop family, the house has most recently been used for a succession of businesses.