October 22nd, 2014 Posted in
Branford
,
Federal Style
,
Schools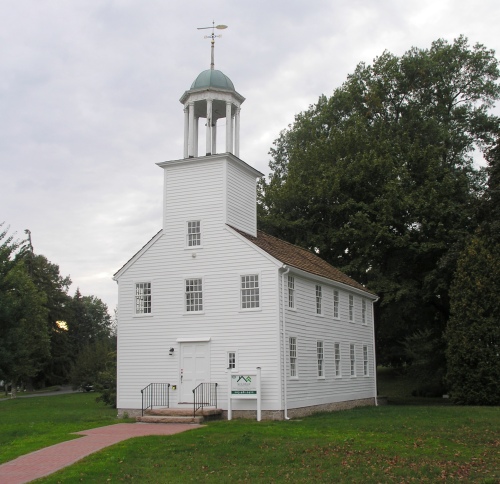 On a corner of the Green in Branford is the old Academy building, constructed in 1820. This school was established by Rev. Timothy Phelps Gillett, who was pastor of Branford's Congregational Church from 1808 to 1860. As related in Vol. II of the History of New Haven County (1892), edited by J.L. Rockey:
At Branford village a select school was taught by Reverend Timothy P. Gillett, some time after the war of 1812, which there, also, awakened a desire for schools of a higher grade, and which led to the establishment of an academy, in 1820. Benjamin R. Fowler, Calvin Frisbie, Philemon Tyler, John Beach and others, aided by Mr. Gillett, were active in this movement, and secured the town's consent to erect the buildings on the south side of the green. A two-story frame house, with a belfry, was put up, which is still standing in that locality. For a number of years Branford Academy had a good reputation, and the stockholders were rewarded by having a school in their midst, which well served its purpose. The academy was continued with varying success until 1866, Miss Jane Hoadley being the last teacher. Others who are remembered as having taught there were: Reverend Gillett, Deacon Samuel Frisbie and Lynde Harrison. The latter was instrumental in securing a school library of several hundred volumes. The upper story of the academy building has long been used as a Masonic hall.

The usefulness of the academy was at an end after the consolidation of the public schools of the town.
The Academy building, which originally stood on the site of the present Town Hall, was moved to the rear of the Congregational Church in 1860. It was sold to the Masons in 1871, but was sometimes rented by the town for overflow school space thereafter. In 1971 the Academy was deeded to the town and in 1974 it was moved to its current site on the Branford Green, at the north-west corner of South Main Street.