May 16th, 2007 Posted in
Churches
,
Gothic
,
Hartford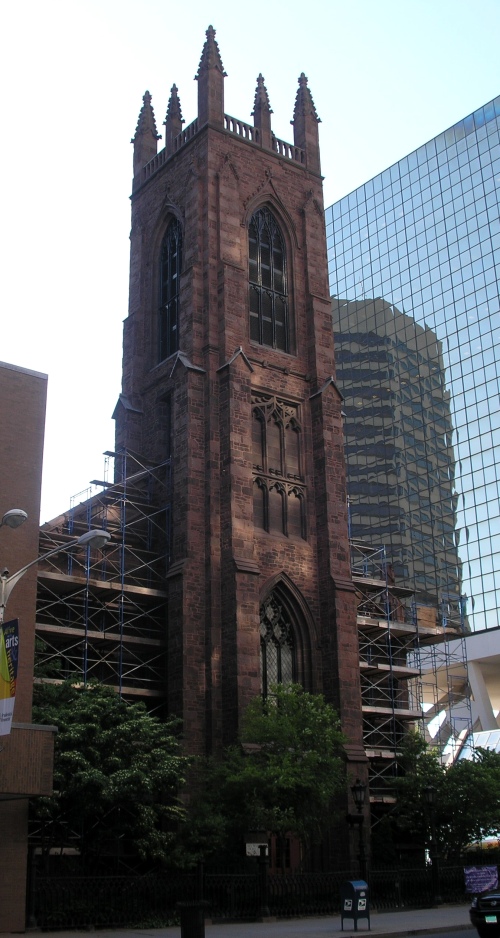 Hartford's fist Episcopal church was completed in 1795 and looked very similar to contemporary white Congregational meeting houses. Following the disestablishment of the Congregational Church as the official church of Connecticut in 1818 and the growth of the original Episcopal congregation, it was apparent by the 1820s that a larger building should be built. When Christ Church's rector, Rev. Nathaniel S. Wheaton, was on a trip to England collect books for the Episcopalians' new Washington College (now Trinity College), he sketched many of the Gothic churches there and, on his return, noted New Haven architect Ithiel Town was hired to design the new church in a Gothic Revival style. Town had previously designed Trinity Church on New Haven Green.
Christ Church was built in 1828 and consecrated in 1829. While the church's overall shape still resembles a meeting house, by choosing a Gothic style the Connecticut Episcopalians were announcing their separate identity from the Congregationalists by linking themselves to the Anglican tradition. Various alterations have been made over the years by a number of noted architects. In 1919, the church was chosen to be the Cathedral of the Diocese of Connecticut. As the Cathedral is currently covered in scaffolding, the photo above focuses on the Bell Tower, which was added in 1838.
EDIT (5/30/08): I have replaced the original picture with a new one. There is still scaffolding, but more of the church is visible than in the first picture.