July 25th, 2014 Posted in
Branford
,
Greek Revival
,
Houses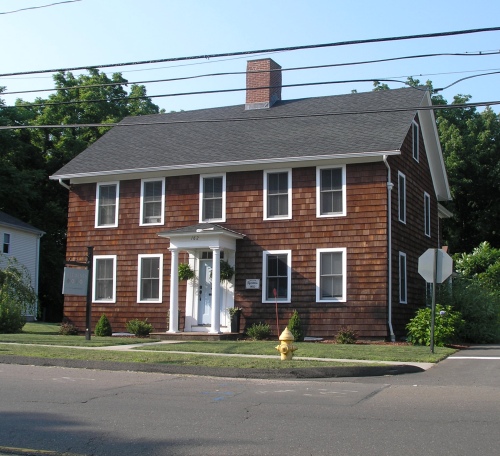 Wyllys Russell (1791-1877) and his wife Laura Baldwin Russell (married 1811) built the house at 162 Main Street in the Canoe Brook section of Branford in 1820. A late example of a center-chimney house, the width of its overhang indicates that the original roof was later replaced. The house was erected on land that the couple had received from Laura Russell's mother, Martha Harrison Baldwin, in 1816. Wyllys Russell had a fishing business at the nearby harbor. Jay Edward Russell, Wyllys' nephew, later owned the Russell House. He had a coal and lumber business and served as town clerk (1861-1866) and Judge of Probate (1862-1869) in Branford. In the 1870s, he departed for California, where he died in 1909. According to the Obituary Record of Graduates of Yale University (1910):
In 1883 he patented the Hydraulic Giant, and since January 1, 1900, had been engaged at East Auburn, Cal., upon the project of providing from the American River a supply of mountain water and electricity for the cities of San Francisco, Berkeley, and Alameda. He was sole owner of the plant and machinery, with a thousand acres of land.
Frederick S. Jordon bought the Russell House in 1875, and his daughter, Caroline, occupied it until her death in 1989 at the age of 102. In 2003, the house was endangered by a plan to build condominium units on the site, but after a hearing before the Connecticut Historic Preservation Council in Hartford, the developer agreed to modify his plans to keep the Russell House standing in its original location. The house has since been renovated for office use. The property also has a historic barn, built around 1870.