July 11th, 2014 Posted in
Colonial
,
Federal Style
,
Houses
,
Southington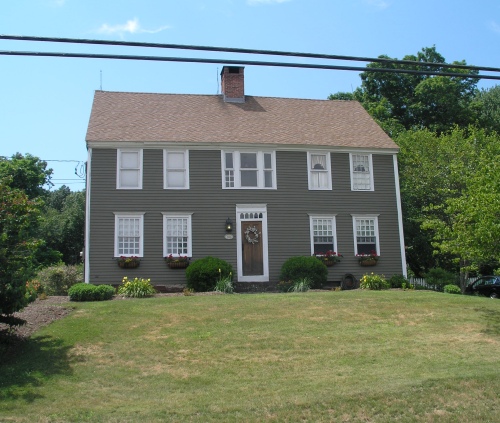 Rev. John Wightman (1723-1781) was an itinerant Baptist minister, originally from Groton, who settled in Southington around 1770. According to Heman R. Timlow in Ecclesiastical and Other Sketches of Southington, Conn. (1875):
When Mr. Wightman came to Southington, Mr. Merriman [Southington's first resident Baptist pastor] was already nearly eighty years of age, and to this veteran Christian the presence of such a sympathizing friend and ally must have teen the occasion of great joy. It is my own impression, but I cannot support it by documentary evidence, that Mr. Wightman had occasionally supplied preaching for the Baptist families in the vicinity of Bristol and Red Stone Hill, perhaps a few weeks at a time. When he came to settle permanently, he removed to the neighborhood of Mr. Merriman on what is now the west mountain road. His house was just north of the junction of the road leading from Wolf Hill.

A uniform tradition is that he was in poor health and could endure but little exposure. But the families of his charge were few in number, and there was but little pastoral work to do. During the last year or two of his life he was confined almost wholly to his house. He died of consumption, April 4, 1781. Before his death he had succeeded in having a burying ground laid out, not far from his house, on the Wolf Hill road, and he was the first to be placed therein. The inscription upon his tombstone is as follows:

"Here lies the remains of the Rev. John Wightman, who departed this life April ye 4th A.D. 1781, in the 55th year of his age.

The servant of the lord most high
Sent with the gospel from the Sky
In dreary shades of lonesome night
To spread the grace of heavenly light."

All the information that 1 can get concerning Mr. Wightman represents him as a devout Christian man, and of amiable traits of character. Like all his family in the eastern part of the state he was on excellent terms with the "standing order." There is no evidence of any jar between him and Mr. Chapman who was pastor and ex-pastor of the Congregational church, while he was here. And the families of Congregationalists and Baptists were on the best of terms. There is no evidence of the least alienation until after 1780. Backus says "Mr. Wightman was a shining example of uniform piety and benevolence, until death put an end to his useful life which he ended in the most joyful manner at Farmington" (Southington.)
Rev. Wightman's house, at 1024 Mount Vernon Road in Southington, was built around 1770 (the date he purchased the land). Since the house has Federal-style features outside but not inside, it is possible the exterior details were added later.