October 31st, 2007 Posted in
Glastonbury
,
Houses
,
Second Empire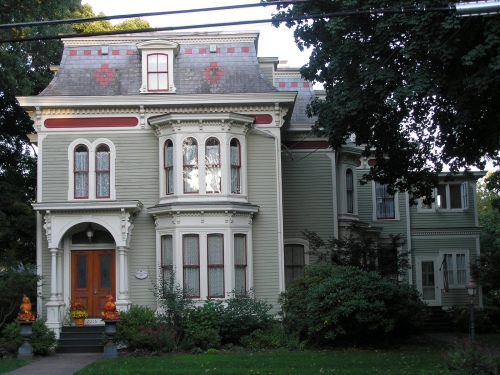 The 1876, Second Empire-style Frances E. Hale House, on Main Street in Glastonbury, looks like an appropriate house to post on Halloween!
This is also an appropriate day to announce the start of a new companion blog to Historic Buildings of Connecticut called Historic Gravestones of Souther New England! It will not be updated quite as frequently as this blog is, but please check it out!
Also, this blog is now six months old! To celebrate, I have added a poll. Please vote! (Poll now closed).
Edit (5/27/08): The house replaced the earlier home of Timothy Hale, later occupied by his son, Atwater Hale. After Atwater's death in 1874, his widow Frances had this house built and invited her daughter, Deborah and son-in-law, John Q. Goodrich, to move in and help run the family tobacco farm.