April 22nd, 2014 Posted in
Colonial
,
Houses
,
Lisbon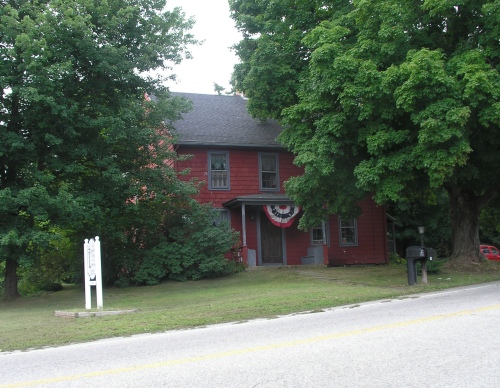 Reverend David Hale of Coventry was the younger brother of Nathan Hale. He served as pastor of the Newent Congregational Church in Lisbon from 1790 to 1803. In 1795 he built a house in Lisbon (4 Newent Road) that continued to be used as the church parsonage until the late 1960s when it became a private residence. It is now home to an antiques shop known as The Skeleton Key at the Hale House.
As described in the History of New London County, Connecticut, with Biographical Sketches of its Pioneers and Prominent Men (1882), compiled by D. Hamilton Hurd:
In June, 1790, Mr. David Hale, of Coventry, was ordained. He was a brother of the accomplished and chivalrous Capt. Nathan Hale, who was executed as a spy on Long Island by order of Sir William Howe. Mr. Hale was a man of very gentle and winning manners, of exalted piety, and a fine scholar. He carried his idea of disinterested benevolence to such an extent that, if acted upon, it would overturn all social institutions. He thought it to be a man's duty to love his neighbor, not only as himself, with the same kind of love, but also to the same degree, so that he should not prefer, even in thought, that a contingent calamity, such as the burning of a house or the loss of a child, should fall on his neighbor rather than on himself. Mr. Hale supplied the deficiencies of his salary by keeping a boarding-school. As an instructor he was popular; his house was filled with pupils from all parts of the county, but ill health and a constitutional depression of spirits obliged him to resign this employment, and eventually his pastoral office. His mind and nerves were of that delicate and sensitive temperament which cannot long endure the rude shock of earthly scenes. He was dismissed in April, 1803, returned to Coventry, and there died in 1822.