February 4th, 2014 Posted in
Federal Style
,
Houses
,
Southington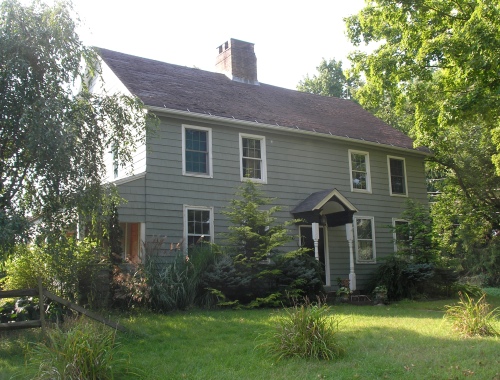 Built around 1787, the house at 1166 Andrews Street in Southington was originally the home of Roswell Moore II (1761-1847). Known as Squire Moore, he married Lovina Phillips (1769-1843) in 1787 and they had twelve children. Roswell Moore, Esq. was a manufacturer of water-cement for more than 30 years, and of linseed oil and was also a large landowner. He served as Justice of the Peace and was a member of the state legislature for fourteen years. An interesting item appears in Resolves and Private Laws of the State of Connecticut from the Year 1789 to the Year 1836, Vol. III (1836). It reads:
RESOLVE ANNEXING ROSWELL MOORE AND HIS FARM TO THE TOWN OF SOUTHINGTON PASSED, MAY 1797.

Upon the petition of Roswell Moore, shewing that the dividing line between the towns of Southington and Berlin passes through his house and farm.

Resolved by this Assembly, That the said farm described in said petition as lying in the town of Berlin, be, and the same is hereby annexed to the town of Southington," and that the petitioner be considered hereafter an inhabitant of said town of Southington, and as such entitled to all the privileges of an inhabitant thereof and liable to pay taxes therein.
After Rosewell Moore's death, his son, Eli Moore (1801-1870), a farmer and cement manufacturer, lived in the house. Eli Moore was also a captain in the Southington Light Infantry Company. An article by Eli Moore, entitled "The Black Birch vs. the Tulip Tree," appeared in The Horticulturalist, and Journal of Rural Art and Rural Taste, Vol. III, in 1853. The house was later sold to Dwight Smith (1847-1926).