May 14th, 2007 Posted in
Churches
,
Federal Style
,
Hartford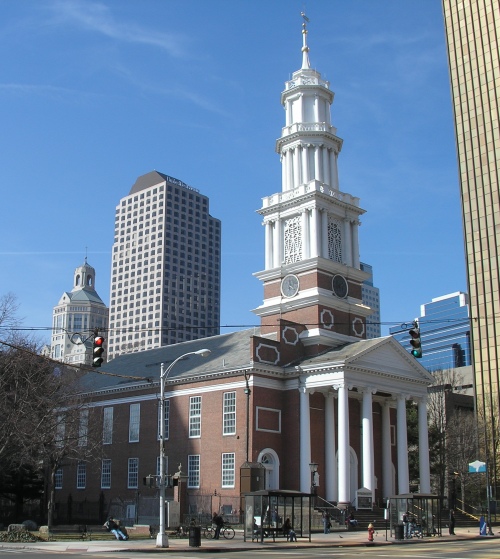 Having focused on houses for the last two weeks, HBCT now begins a week-long chronological survey of some nineteenth century churches in Hartford. These churches display the religious history and changing architectural styles of the period.
First up is Center Church, on Main Street. Built in 1807, it is the fourth meetinghouse building of the First Congregational Society. The Socirty was founded in Cambridge, Mass. in 1632 and was led to the west bank of the Connecticut River by its first minister, Rev. Thomas Hooker, in 1636. The town they founded was named Hartford, after Hertford in England. There was no separation of church and state at that time under the Puritan founders, so the church and government met in one and the same building. The first small meetinghouse was located near the current site of the Old State House, and it was there, in 1638, that representatives from the three original river towns of Hartford, Windsor, and Wethersfiled drew up the world's first written constitution to create a government, the Fundamental Orders, adopted in 1639.
The second meeting house replaced the original log structure in 1641. For the third meeting house, in 1741, construction was moved down the street to the current location at Gold Street, on a corner of the Ancient Burying Ground. The fourth and final building was completed in 1807. By that time, church and government were using separate structures, hence the Old State House having been built at the site of the old meeting house in 1796.
Center, or First, Church, has a distinctive "wedding cake" style steeple, said to have been designed by Daniel Wadsworth, founder of the Wadsworth Atheneum. The steeple shows the elaborate ornamentation favored in America in the early decades of the nineteenth centry (called the Federal style). Wadsworth's design, which is heavy with columns, displays this style to the extreme. Such steeples show the Baroque influence of architect James Gibbs, whose books influenced the designs of countless New England Churches. Wadsworth was said to be strongly inspired by Gibbs's famous St. Martin-in-the-Fields in London.
Today, Hartford's Center Church fetures such later additions as five stained glass windows by Louis Comfort Tiffany. The restoration and preservation of this historic structure has been a concern lately, as shown in a recent editorial in the Hartford Courant. Update 3/8/2012: Added new picture above. The old is here: