November 11th, 2013 Posted in
Industrial
,
Italianate
,
Vernon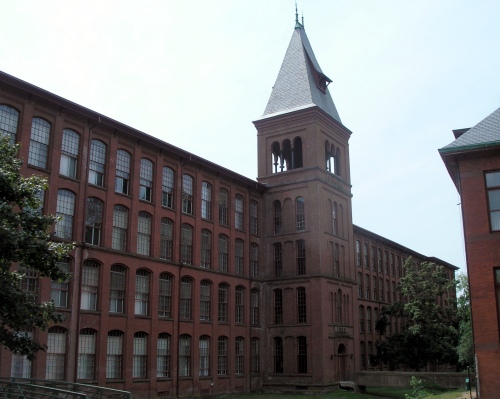 In a 1821 a two-story wood framed mill building was constructed on the future site of the Springville Mill, 155 West Main Street in Rockville, Vernon. As related in the Commemorative Biographical Record of Tolland and Windham Counties (1903):
A mill-wheel was at once erected, and from the beginning the plant was devoted to the manufacture of satinets. In 1826 it had become the property of Augustus Grant and Warren McKinney, the former (Grant) having a two-thirds, the latter, a one-third interest, the firm style being Grant & McKinney. On Aug. 21, 1826, Warren McKinney bought one-third of his partner's interest, and on Aug. 3, 1827, the remainder of that interest, becoming sole proprietor. On March 20, 1832. he sold the property to David McKinney and Rufus S. Abbev. On July 4th, following, they sold to Alonzo Bailey, Chauncey Winchell, Christopher Burdick and Isaac L. Sanford.
These partners organized the Springville Manufacturing Company in 1833. Chauncey Winchell served as president of the company for 52 years. In 1886 the company was purchased by George Maxwell and George Sykes, who replaced the old wooden mill with a four-story brick building devoted to the manufacture of fine worsted wool. The new mill, which had large windows, gas and electric lighting and automatic sprinklers, was considered to be a model manufacturing building for its time. The Springville Manufacturing Company later merged with three other mills to form the Hockanum Company Mills Company, which constructed an addition to the Springville Mill offices in 1909. As related in "Centennial of Vernon," by Harry Conklin Smith, which appeared in The Connecticut Magazine, Vol. XII, No. 2, (1908):
To show the great reputation of the goods produced in the factories of the Hockanum Mills Company, it may be said that they have made suits to be worn at the inauguration by three different presidents of the United States The Springville Company, having made the suit worn by President Harrison, the Hockanum, President McKinley's, and the Springville Company, President Roosevelt's.
In 1934, the Hockanum Mills Company's holdings were sold to M.T. Stevens and Sons of North Andover, Massachusetts. The Springville Mill ceased its manufacturing operations in 1951 and the building has since been converted into apartments.