August 11th, 2013 Posted in
Churches
,
Franklin
,
Italianate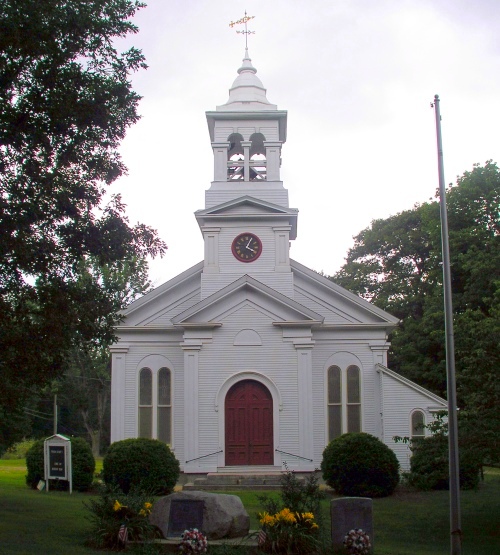 The town of Franklin was originally a part of Norwich and was called West Farms. A separate Ecclesiastical Society was established in 1716 and the first meetinghouse, on Meetinghouse Hill, was completed two years later. As related in The Celebration of the One Hundred and Fiftieth Anniversary of the Primitive Organization of the Congregational Church and Society in Franklin, Connecticut, October 14th, 1868 (1869) [also printed in A Historical Address Delivered in Franklin, Connecticut, October 14th, 1868, on the Two Hundredth Anniversary of the Settlement of the Town, and the One Hundred and Fiftieth Anniversary of its Ecclesiastical Organizations (1870)]:
It will thus appear that the same building materials which constituted an important part of the meeting house built by John Elderkin, at the Town Plot [what is today Norwichtown in Norwich] in 1673, entered somewhat largely into the first church built upon Meeting House Hill more than forty years subsequent to that date. This, in turn, was taken down and re-erected in 1746, in what was afterwards the eighth society in Norwich [the Portipaug Society, which existed from 1761 to c. 1861], and after battling with the elements for nearly forty years longer, it had to succumb a third time, and parts of it were finally converted into a dwelling house [built by Comfort Fillmore], where very possibly some remnants may be found at the present time.
After bitter debates over where to build a replacement for the original meetinghouse, the second was eventually constructed c. 1745-1747, again located on Meetinghouse Hill. This was replaced by another building about twenty years later. The current Franklin Congregational Church edifice was built in 1863 and was renovated in 1989.