May 19th, 2013 Posted in
Churches
,
Colonial Revival
,
Glastonbury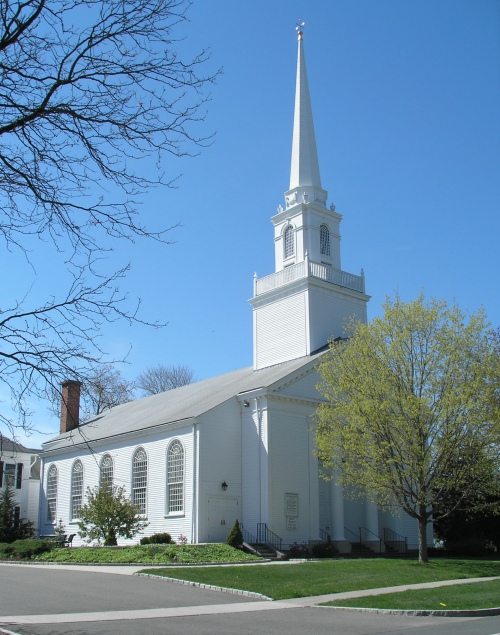 The First Church of Christ, Congregational in Glastonbury has had five church buildings since it was established in the 1690s. As related in Vol. 2 of the Memorial History of Hartford County (1886), the first meeting house was erected on the Green in 1693:
It was enlarged in 1706, and stood until destroyed by fire on the night of Dec. 9, 1734. The second meeting-house, by compromise between the north and south, and by the decision of the General Court, was erected on the main street, about one fourth of a mile south of the Green, standing half in the street, just north of the old Moseley tavern. […] It was used as a church for more than a century, having been built in 1735. On the division of the society in 1836, by the establishment of the society at South Glastonbury, it was abandoned as a meeting-house, and during the year 1837 was demolished. […] By the division of the First Society in 1836, and the dilapidation of its ancient edifice, a new meeting-house became a necessity for the mother organization, and it was so voted in society's meeting January 17, 1837. This was located farther to the north, on land which in 1640 was owned by the Rev. Henry Smith, the first settled minister of Wethersfield (from 1641 to 1648), and later (in 1684) by Samuel Hale, the ancestor of the Hale family. It was built in 1837, under the supervision of David Hubbard, Josiah B. Holmes, George Plummer, Benjamin Hale, and Ralph Carter, as a building committee. It was a very tasteful edifice, with tower, bell, and clock, especially attractive after its enlargement and thorough repair in 1858, which made it a most fitting and beautiful sanctuary. It was burned on the morning of Sunday, Dec. 23, 1866. The church which takes its place was erected in the year following, and with its graceful spire (rebuilt in 1880) forms a prominent object in the views of the valley.
This last church was destroyed in the hurricane of 1938, when the steeple crashed down into the sanctuary. The current church was built the following year on the same site.