October 9th, 2012 Posted in
Ellington
,
Greek Revival
,
Houses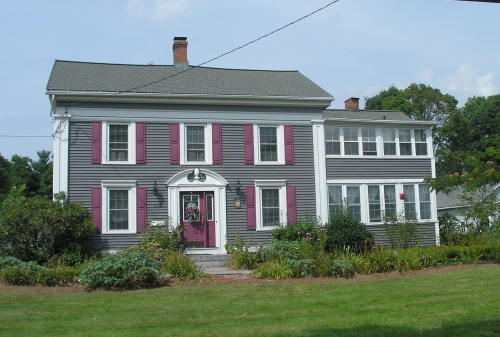 According to A Century of Vernon, Connecticut, 1808-1908 (1911):
The history of the Baptist denomination in the vicinity of Vernon begins as far back as 1842, when at the request of several brethren a meeting was held on April 8 at the home of Thomas King in Ellington "to consult upon the propriety of constituting a Baptist church in said town." In the afternoon of that day the church was organized, but this organization disbanded in 1845, but before doing so the membership had grown to thirty-two members. Rev. George Mixter was the first pastor.
The same year the church was founded, Rev. Mixter built a Greek Revival house at 113 Main Street in Ellington. As related in The History and Genealogies of Ancient Windsor, Connecticut, Vol. I (1898), by Henry R. Stiles:
Rev. George Mixter was born in Monson, Mass., Jan. 7, 1795. He had no distinctively theological education, but began to preach in Monson and Wilbraham about 1835. He was ordained and settled at Wales, Mass., in 1836, and removed from there early in 1842 to Ellington, where he remained about three years. He afterwards preached at various places in eastern Connecticut till 1862, when he gave up pastoral work on account of failing health, but continued to preach occasionally. He died at Somerville, Conn., Jan. 8, 1879.
The Mixter House once had a Greek Revival entrance portico. In recent years, it was replaced with a Colonial Revival door surround.