August 10th, 2012 Posted in
Colonial
,
Houses
,
Litchfield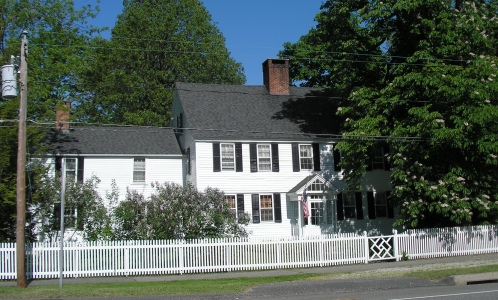 The house at 168 North Street in Litchfield is described in Historic Litchfield, 1721-1907 (1907), by Alice T. Bulkeley, as follows:
Retracing our steps down North street toward the center, the next house of historical interest is the Lord house, built in 1785 by Oliver Boardman on Glebe Land. The east side of North street, from the corner of East street to the Lord house, was owned by the church and called Glebe Land.

The land on which the house was built was either leased by or sold to Boardman by the church authorities, and bought of him by Sylvester Spencer, Litchfield's former real estate dealer. It was also owned by Samuel Beach, who sold it to George Lord, the brother of Augustus, who with his sister resided there until his death at the age of eighty-seven. His sister, Miss Lord, occupied the home until her death in the Spring of 1907 at the age of 80 years and 11 months, when the house descended to her nieces. The side doorstep, an immense block of stone, was brought from Salisbury, requiring twelve pair of oxen to draw it.