Archive for the 'Sprague' Category
Wednesday, July 24th, 2013 Posted in
American Foursquare
,
Craftsman
,
Houses
,
Sprague
,
Tudor Revival
|
No Comments »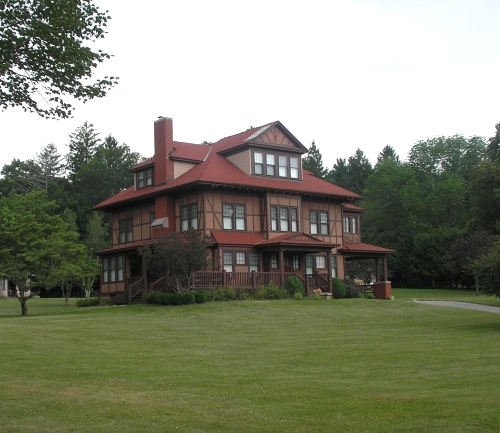 At 330 Main Street in the village of Hanover in the town of Sprague is a Craftsman-style American Foursquare house. It was constructed in 1913 by builder Peck McWilliams. The house was a wedding gift for William Park (1889-1971) from his father, mill-owner Angus Park, at the time of William's marriage to Ruth Standish. The William Park House has stuccoed walls with Tudor-style decorative half-timbering and a porte-cochere on the north side.
Born in Galashiels, Scotland, Angus Park (1859-1929) emigrated with his family to Canada, where over twenty years he grew successful in the wool textile industry. As related in Men of Mark in Connecticut, Vol. V (1910):
He was employed there until 1894, when he came to East Lyme, Connecticut, and became secretary of the Niantic Manufacturing Company, being associated with an uncle, D. E. Campbell, and with a brother, William Park. He remained there until August, 1899, when he severed his connection with that concern and purchased the Allen Mill and properties at Hanover, Connecticut, which property is now known as the Airlie Mills. This mill had been closed for some time, and consequently was in poor condition. Mr. Park remodeled the mill and installed new and modern machinery at a great outlay of money. The mill is now one of the best in this region, and the product is a high grade of woolen and flannel suiting. In March, 1903, when the Assawauga Company, of Dayville, Connecticut, was organized Mr. Park became its manager, and one of its largest stockholders. In 1907, Mr. Park purchased the properties of the Crosby Manufacturing Company, at East Glastonbury, Connecticut, and organized the Angus Park Manufacturing Company, of which he is the treasurer and general manager.
The Park family woolen company prospered under the direction of Angus Park and then under his son William Park. The company continued in business until 1973.