Archive for the 'Beacon Falls' Category
Sunday, July 1st, 2012 Posted in
Beacon Falls
,
Churches
,
Italianate
|
No Comments »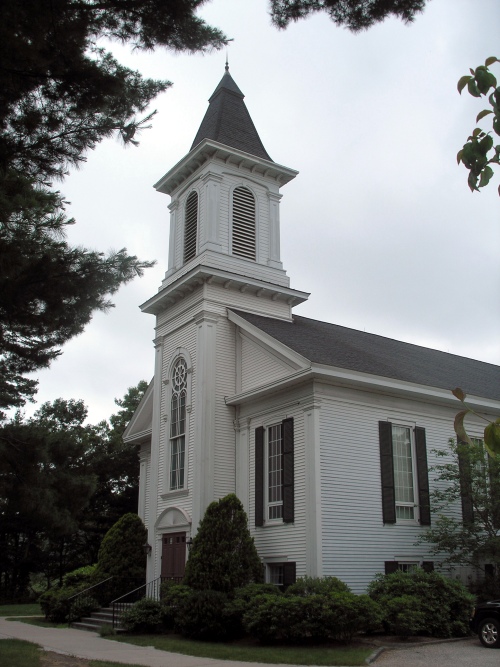 The Beacon Falls Congregational Church was originally a Methodist Episcopal Church, founded in 1846. The first church building was built next to what is now Pines Bridge Cemetery. A small meeting house, it burned in a fire. After 1850, the church moved to another small building on Main Street, near Lebanon Brook. That structure later became an American Legion Hall and is now Beacon Falls Pizza. The current church on Wolfe Avenue, built on land donated by the Home Wollen Mill, was completed in 1871 and dedicated on January 11, 1872. The church became Congregational in 1919. A member of The United Church of Christ from 1957 to 2005, the Beacon Falls Congregational Church is now an independent Congregational Church.
Thursday, January 7th, 2010 Posted in
Beacon Falls
,
Industrial
,
Italianate
|
5 Comments »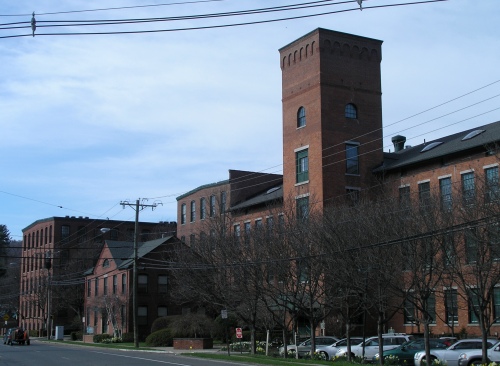 Beacon Mill Village in Beacon Falls is an example of a nineteenth century mill village adapted to new use as an apartment complex (in this it is similar to the mill village established by the Cheney Brothers in Manchester). The eight surviving buildings of the Beacon Mill Village complex were built between 1853 and 1916. The Town of Beacon Falls, incorporated in 1871, grew up alongside the factories. The Village was originally home to the American Hard Rubber Company in the 1850s. By the time of the Civil War, the complex housed the factories of the Home Woolen Company, which produced shawls for Union soldiers. This company went out of business in 1880, but the Beacon Falls Rubber Shoe Company, founded in 1898 by George Lewis, later moved into the complex. His son, Tracy Lewis, later served as the company's president until 1922. The company, which grew to have offices in Boston, San Francisco and New York, incorporated in Massachusetts in 1915, while production remained in Beacon Falls. That same year, the company hired the Olmstead Brothers, sons of Frederick Law Olmsted, to design a mill town for plant workers. The mill buildings were restored and transformed into an apartment complex in 1986.