May 24th, 2016 Posted in
Ellington
,
Houses
,
Vernacular
|
No Comments »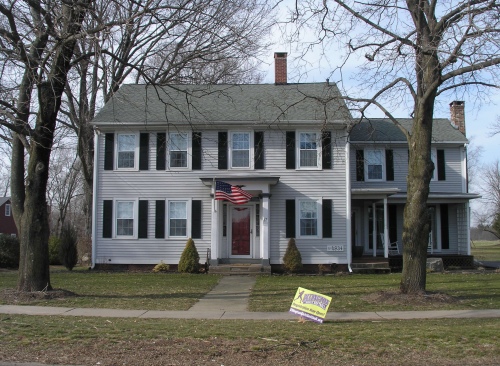 The Lucius Chapman House, at 87 Maple Street in Ellington, was built in 1834. It has a later Italianate entrance porch. As related in "Ellington, " by Alice E. Pinney (The Connecticut Magazine, Vol. IV, No. 2, 1898):
About the beginning of the present century the business of the town changed its location again to a point on the old turnpike a mile east of the present center, near the junction with the road leading to Stafford, where a thriving store was kept in an old red gambrel-roofed house by Dr. James Steele of Tolland. Although he bore the professional title of doctor, he is recorded as being a merchant and a farmer. He died in 1819. Lucius Chapman is said to have kept the store from 1825 until 1856. when he sold out and went West and the place was abandoned for store purposes.
As noted by Henry Willey in Isaac Willey of New London, Conn., and His Descendants (1888), Rebecca Willey, daughter of Asa and Rebecca Wass Willey, was born in 1798 and in 1830 married
Lucius Chapman, a merchant of Ellington, Conn. They removed to Illinois, and were living there in 1861.