February 17th, 2018 Posted in
Chaplin
,
Commercial Buildings
,
Federal Style
|
No Comments »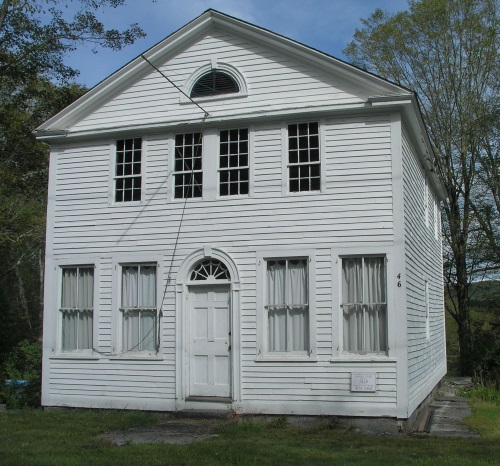 The building at 46 Chaplin Street in Chaplin was erected c. 1828 as a general store, most likely by Isaac Goodell, who lived next door at 44 Chaplin Street and in 1835 sold his house to his brother Walter Goodell. The store was later owned by Allen Lincoln (1816-1882). According to Vol. II of A Modern History of Windham County, Connecticut (1920), edited by Allen's son, Allen B. Lincoln:
The late Allen Lincoln, well known as a merchant in Chaplin and Willimantic during the years about 1850-1882, won an excellent reputation for square dealing, combined with Yankee thrift and shrewdness. In earlier life a farmer, he never really enjoyed it, and varied that life by occasional trips via stage and canal to New York State and Ohio, then the "far west" and there to trade in wools.
As noted in the Commemorative Biographical Record of Tolland and Windham Counties (1903):
In 1853 Mr. Lincoln removed to Chaplin village and opened a country store. About four years from this time he came to Willimantic, and opened a country store in what was then the principal part of the village (the corner of Bridge and Main streets), in the building occupied in after years by tenants. He retained the Chaplin store meanwhile, but finally he sold that out to his brother, Jared W. Lincoln, and cast his lot with the growing village of Willimantic, removing his family there in 1864.
Allen's brother, Jared W. Lincoln, continued to run the store for about twenty years until he sold it to his son, Edgar S. Lincoln, who later moved to Waterbury. Jared Lincoln was postmaster of Chaplin from 1863 to 1901 and the store served as the community's post office from 1828 until 1950.