April 29th, 2016 Posted in
Houses
,
Italianate
,
Norwalk
|
No Comments »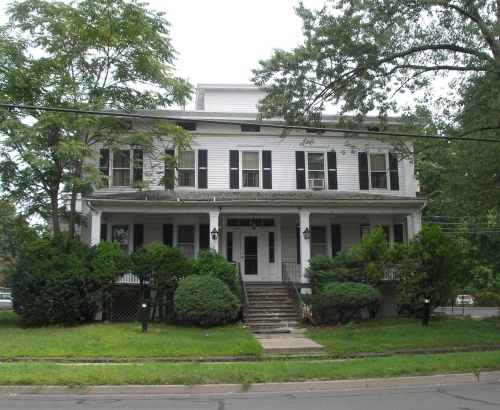 Today is the Ninth Anniversary of Historic Buildings of Connecticut! It's been one post a day for nine years!
Frederick Belden (1818-1893) was a wealthy Norwalk merchant. C. 1850 he built the Italianate house at 75 East Avenue across from Norwalk Green. Frederick Belden married twice, first to Catherine E Gruman Belden (1822-1864) and then to Sarah E Hill Belden (1840-1911), the oldest daughter of Ebenezer Hill, a banker and founder of the Norwalk Lock Company and the Norwalk Iron Works. The Belden house is mentioned in Norwalk (1896), by Charles M. Selleck:
The Frederick Belden residence "on the green" supplanted the more ancient Grumman home, and was presided over by those to whom refinement and good breeding seemed a second nature. Mrs. Belden was gracefully dignified and of pleasing presence. Her good mother, Mrs. Gruman, who was for many years her daughter's care, was, like her near neighbor, Mrs. Senator Thaddeus Betts, a feeling friend. Those of Miss Susan Betts' school children who yet remain may recall how that good instructress was wont, during the noon recess on the green, to receive warm, appetizing viands, as a mid-day luncheon. She was unforgotten in the school's generous vicinity. As the Belden children approached maturity the bright home invited the young. The second Mrs. Belden has preserved its reputation.
Most recently used as a funeral parlor, last summer the house sold for $250,000.