February 19th, 2018 Posted in
Guilford
,
Italianate
,
Schools
|
No Comments »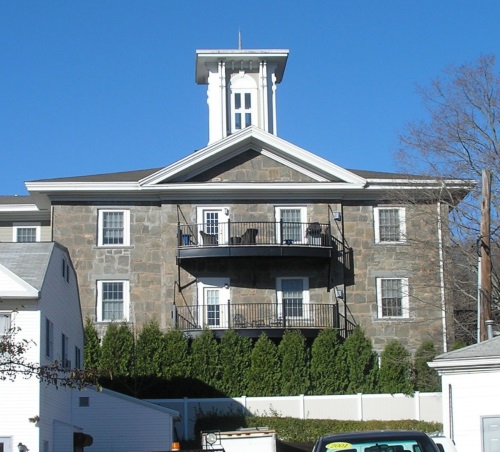 The stone building at 120 North Fair Street in Guilford was used as a school from 1855 until 1936. It was established as the Guilford Institute, as related in The History of Guilford, Connecticut (1877), by Ralph D. Smith:
Mrs. Sarah Griffing, widow of Hon. Nathaniel Griffing, deeded August 21, 1854, to E. Edwin Hall, Henry W. Chittenden, Simeon B. Chittenden, Alvan Talcott, Abraham C. Baldwin, Ralph D. Smith and Sherman Graves (who had been created a body politic under the name and style of The Trustees of the Guilford Institute), a piece of land situated in Guilford, as also the sum of ten thousand dollars, "for the purpose of establishing and maintaining a school in said Guilford of a higher order than the district or common school." She states, in the deed, "whereas my wish is that the said school should in no sense be regarded as a sectarian institution but be open alike to all who wish to enjoy its advantages, and on the same terms, yet as it must necessarily be under some government and control, and as more harmony will be likely to prevail if all the directors or trustees are of the same religious views, my wish is that they should be of the denomination to which I belong, to wit, of the Congregational order and of that class designated and known at the present day as Orthodox or Trinitarian, of which the pastor of the First church in Guilford shall always be one, should he hold such religious views or belief." She also expresses the wish that "the Bible should always be used in said school as the foundation of all education for usefulness or happiness."

To this donation was added another of ten thousand dollars, by Hon. Simeon B. Chittenden, Brooklyn, N. Y., October 12th, 1855.

The corner stone of the building for the accommodation of the institute was laid September 13, 1854, on which occasion an address was delivered by Rev. T. D. P. Stone of the Normal school at Norwich, Conn. The building being completed, the first term of the institute was opened September 3, 1855, with suitable public exercises, and addresses by Rev. E. Edwin Hall, S. B. Chittenden, and others.

In September 1872, by an arrangement with the Union school district of Guilford, its scholars were admitted to the privileges of the institute free. In 1875 the institute failing to receive any interest on certain bonds constituting their investments, the trustees gave permission to the union district to occupy the building for a high school, which arrangement continues to the present time.
In 1886, the Guilford Institute became a taxpayer-funded free public high school. The building continued as the high school until 1936 when a new Guilford High School was built (now used as a middle school since the current high school building opened in 2015). The former Guilford Institute building was then vacant for time, but later was the home of The Shoreline Times newspaper for twenty years. After being left vacant again in 2008, the building was recently converted into condominiums called The Lofts at Griffing Square