March 7th, 2014 Posted in
Greek Revival
,
Houses
,
Watertown
|
No Comments »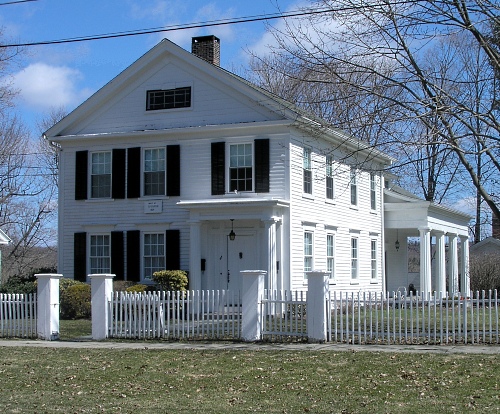 At 48 North Street in Watertown is a Greek Revival house built by Eli Curtiss (1804-1878) in 1837. Next to the house is a carriage house, built at the same time. Curtiss was a manufacturer of Panama hats. As related in Vol. III of the History of Waterbury and the Naugatuck Valley, Connecticut (1918):
Colonel Eli Curtiss spent the greater part of his life in Watertown, where he first took up his abode in 1820. He was born in the town of Huntington, Connecticut, June 16, 1804, and his mother was Elizabeth Wooster, a descendant of Ephraim Wooster, a brother of General David Wooster. In his native town Eli Curtiss spent the period of his boyhood and early youth, removing to Watertown in 1820. when a lad of sixteen years. Here he found employment in the store of Benjamin de Forest, with whom he remained as a clerk until 1826, when he purchased the interest of his employer and continued the business on his own account until 1850. He built up a business of quite extensive proportions and employed several clerks. He was engaged in the manufacture of what was called the plant hat. He procured the material for the hat, cut it into strips and braided it for headgear, employing in this work women from Bethlehem, Morris, Woodbury, Middlebury, Plymouth and surrounding towns. They profited much by such employment, receiving their pay in goods from Mr. Curtiss' store. In this way he became the most extensive and successful merchant in all that section, people coming from as far as Waterbury to trade with him. In 1850 Colonel Curtiss entered the New York store of the Scovill Manufacturing Company, where he spent eighteen years. He then returned to Watertown in 1868 and retired from active business, spending his remaining days in the enjoyment of well earned rest from further business cares.

While no longer active in trade connections'. Colonel Curtiss was a prominent figure in public affairs of the community. He served as postmaster of Watertown for several years and was a member of the state legislature in 1861. In 1877 he was chosen to represent his district in the state senate and both in the house and in the senate he carefully considered the questions which came up for settlement and gave earnest support to those which he believed of vital moment and consequence to the commonwealth. He was also a fellow of Yale College and assisted in electing Professor Porter as head of the institution. Colonel Curtiss had an interesting military experience. He was a member of the state militia and served as colonel of the Twelfth Connecticut Regiment, thus having thorough training in military procedure of that period. His entire life was actuated by high ideals and his course was ever in harmony with his professions as a member of the Congregational church of Watertown, of which he was a faithful member and liberal supporter. He contributed to many other worthy causes and took a deep interest in all those activities which have to do with the common good. He was a man of enterprise, of progressive ideas, of marked business ability and of sterling personal worth, devoted to his family, to his home city and to his country.
After his 1832 marriage to Alma Southmayd DeForest (1813-1861), who was from a wealthy Watertown family, Curtiss moved to a new house at 90 DeForest Street, built circa 1840. After the death of his first wife, he married Mary Frances Davis of Boston in 1868.